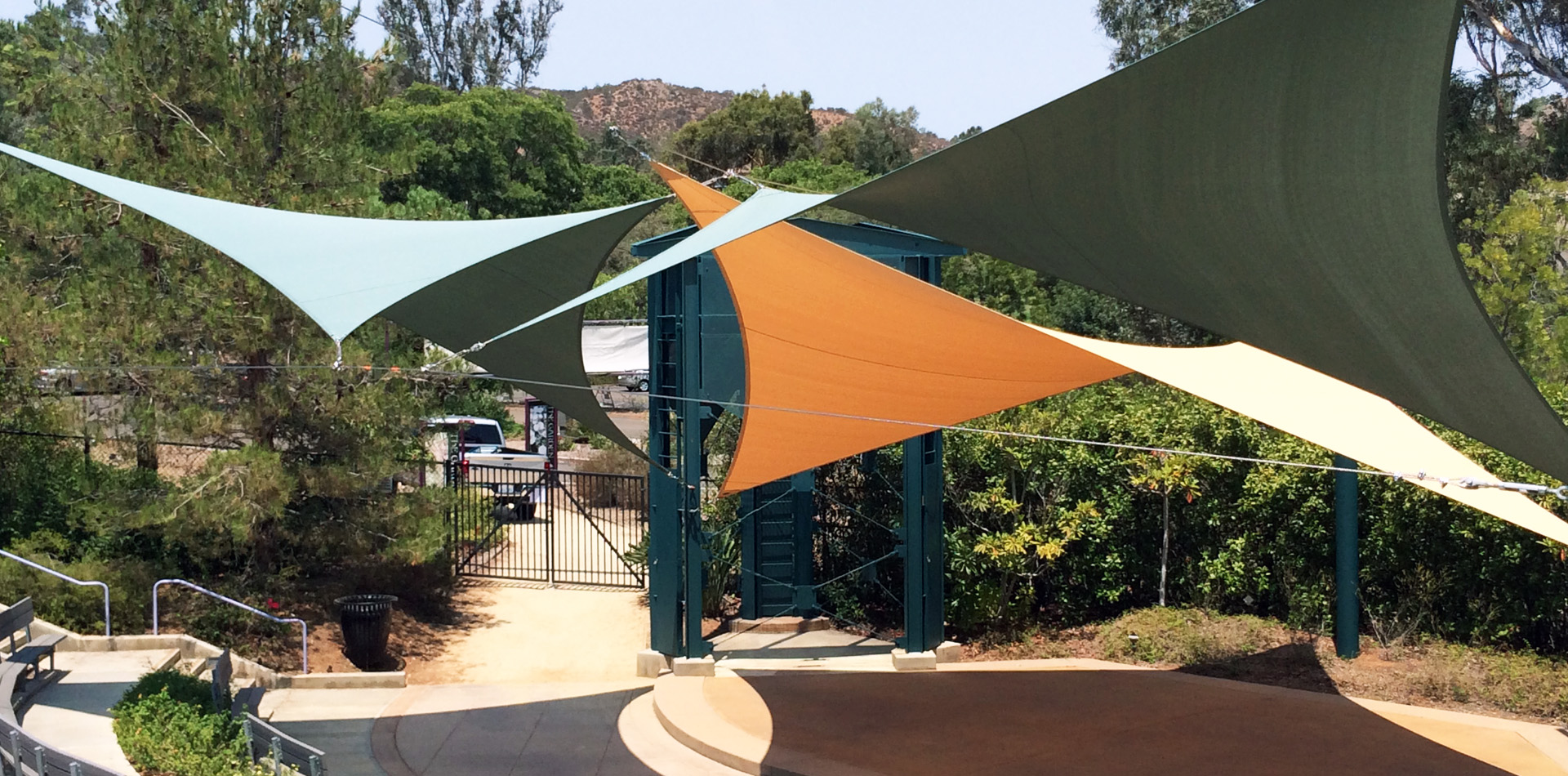 Custom Made Shade Sails
At SoCal Shade Sails, we use only the highest quality materials and have capabilities to customize every design to your specific landscape needs. Every design is fabricated from top-of-the-line, premium cloth that provides 96% UV protection, creating the perfect shade.
We're so confident that our designs are the ideal match for your residential or commercial landscape needs, we offer free quotes on all of our Custom Shade Sails. Each design can be formatted for outdoor arenas, including playgrounds, school recreation areas, childcare centers, community areas, outdoor sporting venues or any commercial application that could use a welcoming, shady space with terrific eye appeal.
Our clients love Shade Sails for backyard patios and carports. This investment quickly transforms hot, dusty areas into crisp, cleanly delineated resting areas to offer respite from that intense Southern California sunshine. We've designed projects in all sorts of sizes, types and specifications to provide safe, beautiful coverage for loved ones, employees, clients, customers, and pedestrians. Most clients select classic square or triangle shapes – but we also love a challenge! Have a complicated space? Let us bring it to life with our sleek, modern custom designs.
SoCal Shade Sails Professional Installation:
Our professional team is on standby to serve your needs when it comes to the design, manufacture and installation of our premium shade sails. Our experienced project managers closely monitor the entire process, from design to installation, to ensure that your job is complete.
Without an impeccably designed, properly made and correctly installed sail, you're never going to achieve that ideal, taut fabric look. We're here to make sure the job is done right, and done right the first time. Our shade sails are made from a special high-rated UV-blocking fabric.
Complimentary On-Site Consultation is offered for any Custom Shade Sails purchase:
We know that your needs are particular, not generic. That's why we customize each on-site consultation to include:
• A visit to your site
• To the best of our ability, we will layout all points of connection.
• Custom, innovative design for your shade sails, directly aligned with your budget and location
Got questions? We have answers, and we're eager to help. Please contact us today to schedule an on-site consultation.
Shade Sails Hardware:
Each and every component of our hardware is proudly made from the finest grade stainless steel and designed for easy use and installation. We rely on a high load rated fixture to ensure safety and enduring strength.